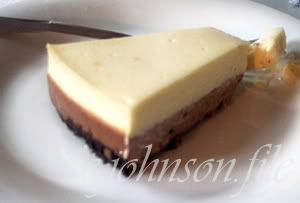 1 cup finely crushed Chocolate Wafers / Oreo
1/4 tsp. ground cinnamon
3 Tbsp. butter, melted
4 pkg. (8 oz. each) PHILADELPHIA Cream Cheese, softened
3/4 cup sugar
1/2 cup Sour Cream
1 tsp. vanilla
4 eggs
4 squares Semi-Sweet Baking Chocolate, melted
1/2 tsp. grated orange peel





PREHEAT oven to 350°F if using silver 9-inch springform pan (or to 325°F if using a dark nonstick 9-inch springform pan).

Mix wafer crumbs, cinnamon and butter; press firmly onto bottom of pan to form crust.

BEAT cream cheese and sugar in large bowl with electric mixer on medium speed until well blended.

Add sour cream and vanilla; mix well.

Add eggs, 1 at a time, mixing on low speed after each addition just until blended.

Remove 3 cups of the batter; place in medium bowl.

Add melted chocolate; mix well. Pour over crust.
BAKE 30 min.

Meanwhile, ...

Add peel to remaining batter; mix well.

Refrigerate until ready to use.

Reduce oven temperature to 325°F (or to 300°F for dark pan).

Spoon remaining batter over baked chocolate layer in pan.

Bake an additional 30 min. or until center is almost set.

Run small knife or metal spatula around rim of pan to loosen cake; cool before removing rim of pan.

Refrigerate 4 hours or overnight. Store leftover cheesecake in refrigerator.


Labels: makanan penutup